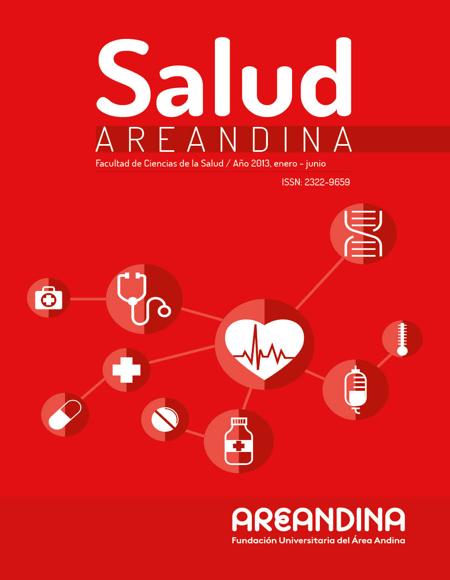 Cómo citar
Dimate Garci, A. E., León Usama, L. V., & Rodríguez Romero, D. C. (2015). Evaluación de riesgo biomecánico y percepción de desórdenes musculo esqueléticos en administrativos en una clínica. Salud Areandina, 2(1), 70 - 81. https://doi.org/10.33132/23229659.322
Resumen
Objetivo: este estudio tiene como objeto evaluar el grado de riesgo biomecánico en cuanto a carga postural estática, utilizando el método RULA, identificación de desórdenes musculo esqueléticos (DME), mediante la encuesta de morbilidad sentida, aplicada en funcionarios administrativos de una clínica (institución prestadora de servicios de salud (IPS)) en Bogotá.
Métodos: estudio de reporte de casos de tipo descriptivo; se tomaron seis trabajadores de la población de una IPS distribuidas en las dependencias de recursos humanos, financiera, archivo y contratación respectivamente, quienes tenían un puesto fijo en video terminales VDT; los datos sobre percepción de desórdenes musculo esquelético derivan de una encuesta de morbilidad sentida basada en el cuestionario nórdico y grado de riesgo ergonómico de la aplicación de método Rapid Upper Limb Assesment (RULA).
Resultados: los resultados de la encuesta de morbilidad sentida muestran presencia de dolor frecuente en cuello, muñeca, región lumbar con severidad de tipo moderado, mientras que con RULA se evidencia mayor riesgo biomecánico, debido a la carga postural en cuello, muñeca, giro de muñeca y región lumbar; trabajo muscular excesivo debido a las nueve horas de trabajo en el día de por lo menos 5,5 días a la semana y que trabajan en la IPS durante por lo menos 
Conclusiones: los resultados subrayan la necesidad de diseñar e implementar un programa de intervención centrado en la postura del cuello, muñeca, giro de muñeca y región lumbar, teniendo en cuenta las necesidades especiales de cada trabajador.
Abstract
Objective: this study is to evaluate the degree of risk in terms biomechanical Static postural load using the method RULA and identification of musculoskeletal disorders (DME) with Felt Morbidity Survey in clinical administrative officials (institution health care provider IPS) in Bogotá.
Methods: a case report and descriptive, it took six workers of the population of the IPS units distributed in Human Resources, Finance, Procurement File and respectively they had a fixed place in video VDT terminals, data on perceived musculoskeletal disorders stem from a perceived morbidity survey questionnaire based on the Nordic and ergonomic risk degree of implementing Rapid method UpperLimbAssesment (RULA).
Results: the results of the survey show the presence of perceived morbidity frequent pain in the neck, wrist, lower back severely by moderate while with RULA evidenced higher risk due to postural load on the neck, wrist, wrist rotation and lumbar region, excessive muscular work due to 9 hours of work on the day of at least 5.5 days a week, and working in the IPS for at least six months.
Conclusions: the results indicate a need to make and implement an intervention program focusing on neck, arm/wrist, wrist and low back posture, and taking into account the special needs of each worker.
Keywords: musculoskeletal disorders MD, VDT, RU LA.
Palabras clave:
Citas
Ministerio de la Protección Social.
Informe de Enfermedad Profesional en
Colombia 2003-2005. [Online].; 2007
[citado 2011 Noviembre 01]. Disponible en:
www.minproteccionsocial.gov.co.
2. Ministerio de la protección social.
gatiso para dme. [Online].; 2006 [citado
Noviembre 4 de 2011]. Disponible en:
www.minproteccionsocial.gov.co.
80
Salud Areandina Bogotá (Colombia). 1 (2): 70-81 enero-junio de 2013
Aanh Eduardo Dimate GarcÍa | Laura Vi via na León Us ama | Dia na Caroli na Rod ríg uez Rom ero
3. Ministerio de la Protección Social PUJ.
eps sura. [Online].; 2006 [Citado: 2012 09
01]. Disponible en: www.epssura.com/guias/
guias_mmss.pdf.
4. A.R. I, M.L. Y, M.H. M. H. Assessment
of postural loading among the assembly
operators: a case study at malaysian automotive
industry. European Journal of Scientific
Research. 2009; 30(II).
5. Nilüfer Ö, Melek NE. Investigation of
musculoskeletal symptoms and ergonomic
risk factors among female sewing machine
operators in Turkey. International Journal
of Industrial Ergonomics, 41 (2011). 585e591.
2011 Agosto; I (41).
6. Julia F, Mary G, Don N, Dennis E.
A test of two training interventions to
prevent work-related musculoskeletal
disorders of the upper extremity. Applied
Ergonomics. 2002 junio; I (33).
7. Ergonautas. Ergonautas. [Online].; 2012
[citado 2013 Octubre 13]. Disponible en:
www.ergonautas.upv.es/metodos/biomecanica/
biomecanica-ayuda.php.
8. Geoffrey D, Valerie W, Guangyan L,
Peter B. The development of the Quick
Exposure Check (qec) for assessing
exposure to risk factors for work-related
musculoskeletal disorders. Applied
Ergonomics. (2008); I (39 ).
9. Karwowski W. A Comparison of Three
Observational Techniques for Assessing
Postural Loads in Industry. International
Journal of Occupational Safety and Ergonomics
(jose). 2007; 13 (1, 3-14).
10. Michael S, Villalta BD, MA. Development
and evaluation of an office ergonomic risk
checklist: rosa e Rapid office strain assessment.
Applied Ergonomics. 2012; II(43).
11. Vernaza Pinzón P y Sierra Torres C.
Dolor musculoesquelético y su asociación
con factores de riesgo ergonómicos, en
trabajadores administrativos. Revista de
Salud Pública, Universidad Nacional de
Colombia. 2005, noviembre, 7(03).
12. Mcatamney L. RULA: A survey method
for the investigation of work-related upper
limb disorders. Applied Ergonomics. 1993,
pp. 91-99.
13. Michael G, Suzanne S. Training the
"Industrial Athlete" Developing Job-
Specific Exercise Programs. American
Occupational Therapy Association, Inc.
2008, pp. CE1-CE8.
14. Seyed Jalil Mirmohammadi A. Effects of
training intervention on non-ergonomic
positions among video display terminals
(vdt) users. Work: A Journal of Prevention,
Assessment and Rehabilitation. 2012.
15. CJ C, Kothiyal K. rula: a survey method
for the investigation of work-related upper
limb disorders. Applied Ergonomics. 1998.
16. Isa MZA, Had IM, Banafsheh MZ. The
effect of interventions based on transtheoretical
modelling on computer operators'
postural habits. Clinical Chiropractic. 2011.
17. Shuvala K, Donchinb M. Prevalence of
upper extremity musculoskeletal symptoms
and. International Journals of Industrial
Ergonomics and ergonomics risk factors
at a Hi-Tech Company in Israel. 2005.
18. Colimon KM. Fundamentos de Epidemiología.
In Kahl Martin C. Fundamentos de
Epidemiología. Medellin: Corporación para
Investigaciones Biológicas; 2010, pp. 162.
19. Centers For Disease Control and Prevention.
cdc. [Online].; 2013 [citado 2013 01 05].
Disponible en: www.cdc.gov/niosh/pubs/
default.html.
20. Patnaik S, Babski-Reeves K, Ahmed S,
Littlejohn R. Comparison of Postural
Analysis Techniques Application of
Ergonomic Tools with a Law Enforcement
Descargas
La descarga de datos todavía no está disponible.